Chinese Teahouse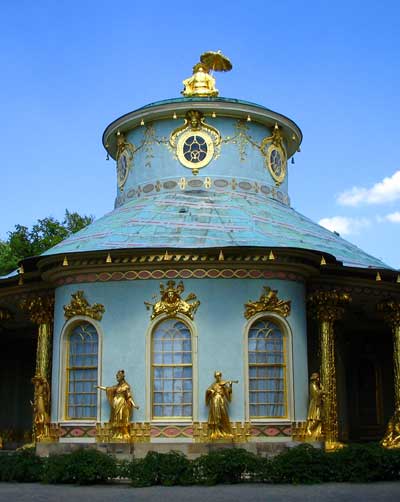 The Chinese Teahouse is a picturesque garden pavilion in the beautiful Park Sanssouci. Due to its fascinating installations, Park Sanssouci is one of the preferred destinations in Potsdam. Frederick the Great provided the designs to the Chinese Teahouse, which he had built in Park Sanssouci by Johann Gottfried Büring during the years 1755 to 1764. Representative of the Chinoiserie of its time, the Chinese Teahouse blends East Asian architecture with stylistic elements of the late Baroque.
The Chinese Teahouse was completed over a period of nine years. This lengthy construction time is generally attributed to the Seven Years' War and the subsequent turmoil it caused in Prussia's economy and financial stability. Once the war was over in 1763, the cabinets inside the Chinese Teahouse were completed and decorated, thus enriching Potsdam by a further attraction.
When visiting the beautiful city of Potsdam, you should definitely plan in the time for a stroll around the Chinese Teahouse at Park Sanssouci. The Chinese Teahouse owes much of its visual appeal to the clover-shaped foundations. The fine paintings and gilt-covered monkeys embedded within the building's stucco are equally worthy of mention. Take the time to marvel at Park Sanssouci's beauty and enjoy a fairytale day. A visit to the Chinese Teahouse conveys but a fraction of our history. Park Sanssouci with its fabulous grounds awaits you and your family.
Opening hours
May to October
Tuesday - Sunday: 10:00 - 18:00 clock
Monday: closed
November to April
Important notes
Last entering 30 minutes before closing time.
Chinese Teahouse map
Events in Potsdam
ticket sales
Music Festival in Potsdam
The Music Festival in Potsdam will be held again in June. This year's theme "Music and gardens" ubiquitous. So even on the opening day in June. Interesting and unique you can take guided tours and visits to many different places. For those interested there is an Opera Workshop.
TICKETS
Details about the Music Festival in Potsdam can be found here.
The concert on the eve and Night of the Palaces in Potsdam
The Park of Sanssouci and Sanssouci Palace with its terraced vineyards and the New Palace are undisputedly the most important monuments in Potsdam, therefore provides the Night of the Palaces as an excellent temporal orientation, to learn more about the state capital of Brandenburg.
TICKETS
Details about the Night of the Palaces can be found here.