Church of Peace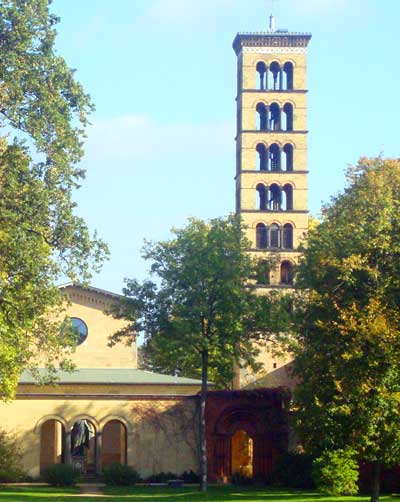 The Church of Peace in Potsdam is a Protestant church, commissioned by the art and culture loving Prussian king Frederick William IV. in 1845. The church was built in the so-called Marly Garden, itself a part of the palace gardens of Sanssouci in Potsdam. After a brief construction period of only 3 years, the Church of Peace was consecrated on September 24th 1848. The completion of minor and adjoining buildings continued until 1854.
Construction plans for the Church of Peace were provided by the royal architect Ludwig Persius. He passed away the year the laying of the foundation stone took place, the architect Friedrich August Stüler thereupon being entrusted with the completion of the project. The design of the church is based on a medieval copperplate depicting the church of San Clemente in Rome. The Church of Peace in Potsdam is a triple-nave columned basilica with an adjoining campanile of 42m height, a very visible landmark in the overall imagery of the palace park.
A 13th century Venetian mosaic fastened above the apse adorns the interior of the church. The mosaic came from a dilapidated church in Murano, was purchased by Frederick William and brought to Potsdam. It depicts a scene with a sitting Jesus, Maria and John the Baptist, as well as St Peter and the martyr Cyprian at his side. Beneath the sanctuary lies the royal vault with the tombs of Frederick William and his wife Elisabeth Ludovika.
The Church of Peace in Potsdam constitutes a beautiful piece of church architecture and should definitely not be missed when visiting Potsdam.
Die Friedenskirche in Potsdam zählt zu einem wunderschönen Beispiel der Kirchenarchitektur und sollte bei einem Besuch des Schlossparks von Sanssouci auf keinen Fall verpasst werden.
Opening times
April
Monday - Saturday: 11:00 - 17:00 clock
Sunday In: 12:00 - 17:00 clock
May to October
Monday - Saturday: 10:00 - 18:00 clock
Sunday In: 12:00 - 18:00 clock
November to March
Tuesday - Sunday: Closed
Saturday In: 11:00 - 18:00 clock
Sunday 12:30 - 16:00 clock
Church of Peace map
Events in Potsdam
ticket sales
Music Festival in Potsdam
The Music Festival in Potsdam will be held again in June. This year's theme "Music and gardens" ubiquitous. So even on the opening day in June. Interesting and unique you can take guided tours and visits to many different places. For those interested there is an Opera Workshop.
TICKETS
Details about the Music Festival in Potsdam can be found here.
The concert on the eve and Night of the Palaces in Potsdam
The Park of Sanssouci and Sanssouci Palace with its terraced vineyards and the New Palace are undisputedly the most important monuments in Potsdam, therefore provides the Night of the Palaces as an excellent temporal orientation, to learn more about the state capital of Brandenburg.
TICKETS
Details about the Night of the Palaces can be found here.