Schlossgarten Hotel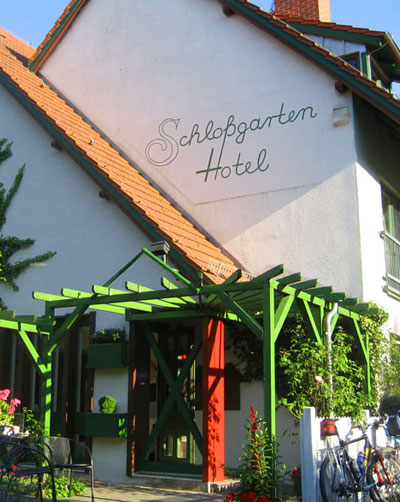 SCHLOSSGARTEN HOTEL AT PARK SANSSOUCI
Inspired by walks through Potsdam's Gardens and the unique legacies of the Prussian kings, we have discovered a place of rest and relaxation for you. A hotel in the green, located directly at the park of Sanssouci and the New Palace. As individual as the chambers of the nobility with the same amount of devotion and attention to detail, the hotel has been furnished.
This family-run breakfast hotel offers single, double, triple and family rooms and every morning a rich and delicious buffet. Visitors to downtown, the campus and the academies will find a fine hotel with excellent access to public transport. The train station "Park Sanssouci" It is only a 5-minute walk. From there you can reach any destination by bus and train. But even on foot it is a stone's throw from here in the Sanssouci Park and the city center.
After a filled day you can in hotel Schlossgarten unwind and let act the unique ambience to be. As once in the gallery of Sanssouci You will also discover here old and new paintings and beautiful wall paintings.
CONTACT INFORMATION OF THE HOTEL
Geschwister-Scholl-Str.41a
14471 / Potsdam
Tel : +49 (0)331 - 971700
Fax : +49 (0)331 - 97170404
PRICE IN June
SGL: Sun. - Fri. = € / Fri. - Sun. = €
DBL: Sun. - Fri. = € / Fri. - Sun. = €
All prices are per night, incl. Breakfast and incl. VAT.
Events in Potsdam
ticket sales
Music Festival in Potsdam
The Music Festival in Potsdam will be held again in June. This year's theme "Music and gardens" ubiquitous. So even on the opening day in June. Interesting and unique you can take guided tours and visits to many different places. For those interested there is an Opera Workshop.
TICKETS
Details about the Music Festival in Potsdam can be found here.
The concert on the eve and Night of the Palaces in Potsdam
The Park of Sanssouci and Sanssouci Palace with its terraced vineyards and the New Palace are undisputedly the most important monuments in Potsdam, therefore provides the Night of the Palaces as an excellent temporal orientation, to learn more about the state capital of Brandenburg.
TICKETS
Details about the Night of the Palaces can be found here.