Sanssouci Palace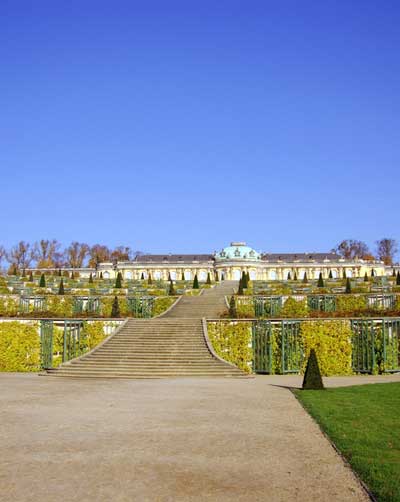 The most visited attraction in Potsdam is the Palace Sanssouci. The architect Georg W. von Knobelsdorff planned the building which was erected between 1745 and 1747.The Rococo-style Hohenzollern palace is located within the Park Sanssouci. Frederick's desire to be buried in the Palace Sanssouci was finally honored in 1991, on the 205th anniversary of his death.
Under Frederick William IV the deteriorated side wings of the palace were extended. The last royal resident of Palace Sanssouci was the widow of Frederick William IV. Subsequently, the palace was converted into a museum and opened to the public as of April 1927.
Numerous works of art disappeared from the palaces of Potsdam during the Second World War. At least Frederick the Great's book collection, along with 36 oil paintings, returned to Palace Sanssouci after Germany's reunification.
With some 70km of walkways, Park Sanssouci is the largest park in Brandenburg. Almost every monarch has left his mark on the park in one way or another. Its uniqueness attracts over a million tourists each year. The proximity of the main entrance (the Green Gate) to Potsdam's inner city is particularly convenient for visiting tourists. Having ascended the hill opposite Palace Sansssouci, visitors experience the Ruinenberg or leisurely stroll through the Sicilian and the Nordic garden. The Marly Garden, awash with flowers, blossoming shrubs and statues is contrasted by the more somber atmosphere of the Friedensgarten. To the south of Palace Sanssouci lie the Charlottenhof, the Rose Garden, the Dichterhain, the former carp pond and a sculpture of the Ildefonso Group.
Opening times
April to October
Tuesday - Sunday: 10:00 - 18:00 clock
Saturday: Closed
November to March
Tuesday - Sunday: 10:00 - 18:00 clock
Saturday: Closed
Christmas Eve: Closed
Christmas Day: 10:00 - 17:00 clock
Second Day of Christmas: 10:00 - 17:00 clock
Silvester: 10:00 - 14:00 clock
New Year: 11:00 - 17:00 clock
Important notes
Last entering 30 minutes before closing time.
This monument has fixed entering times. A purchase of visitor tickets will be in advance through the online service of the Prussian Palaces Foundation.
Recommended. Link: https://tickets.spsg.de
Sanssouci Palace map
Events in Potsdam
ticket sales
Music Festival in Potsdam
The Music Festival in Potsdam will be held again in June. This year's theme "Music and gardens" ubiquitous. So even on the opening day in June. Interesting and unique you can take guided tours and visits to many different places. For those interested there is an Opera Workshop.
TICKETS
Details about the Music Festival in Potsdam can be found here.
The concert on the eve and Night of the Palaces in Potsdam
The Park of Sanssouci and Sanssouci Palace with its terraced vineyards and the New Palace are undisputedly the most important monuments in Potsdam, therefore provides the Night of the Palaces as an excellent temporal orientation, to learn more about the state capital of Brandenburg.
TICKETS
Details about the Night of the Palaces can be found here.