Ruienenberg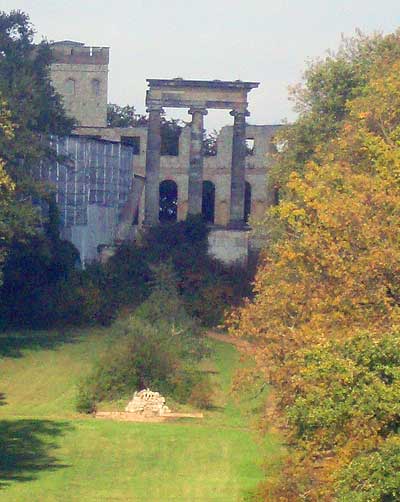 The Brandenburgian capital Potsdam attracts tourists from all over the world. This is due in no small part to the numerous sites the former garrison town has to offer. Amongst them is Palace Sanssouci with its vast park, which is included in UNESCO's list of World Heritage Sites. Visitors of Potsdam and Park Sanssouci should not miss a trip to the Ruinenberg. The 74m-high hill is opposite Palace Sanssouci and surrounded by a population of mature trees.
The history of the Ruinenberg dates back to the year 1748. Until then, this area of Potsdam was used by the Prussian kings for hunting Grouse and Pheasants. Frederick the Great wanted a large well with a high water fountain installed at the foot of the vineyard terraces of Palace Sanssouci. As part of this elaborate enterprise, a large water basin was built on the Ruinenberg. However, the project was soon abandoned due to technical difficulties. Frederick the Great had the basin artistically extended and designed by Georg Wenzeslaus von Knobelsdorff and the theatre painter Innocente Bellavite. The artificial ruins were a part of this commission. Roman pillars, a round temple, and the wall of a Roman theatre. These antique ruins gave the Ruinenberg in Potsdam its name. In 1842, Frederick William IV had the landscape architect Peter Joseph Lenné improve the artistic design of Park Sanssouci. After World War I the Ruinenberg was became property of the Prussian State. Since 1927 it belongs to the Prussian Gardens and Palaces Foundation, Berlin-Brandenburg. The view over Park Sanssouci from the top of the Ruinenberg is breath-taking. This site is highly recommended to anyone who visits Potsdam.
Opening hours
May to October
Monday - Friday: Closed
Saturday - Sunday 10:00 - 18:00 clock
November to April
Important notes
Last entering 30 minutes before closing time.
Ruinenberg map
Events in Potsdam
ticket sales
Music Festival in Potsdam
The Music Festival in Potsdam will be held again in June. This year's theme "Music and gardens" ubiquitous. So even on the opening day in June. Interesting and unique you can take guided tours and visits to many different places. For those interested there is an Opera Workshop.
TICKETS
Details about the Music Festival in Potsdam can be found here.
The concert on the eve and Night of the Palaces in Potsdam
The Park of Sanssouci and Sanssouci Palace with its terraced vineyards and the New Palace are undisputedly the most important monuments in Potsdam, therefore provides the Night of the Palaces as an excellent temporal orientation, to learn more about the state capital of Brandenburg.
TICKETS
Details about the Night of the Palaces can be found here.