Picture Gallery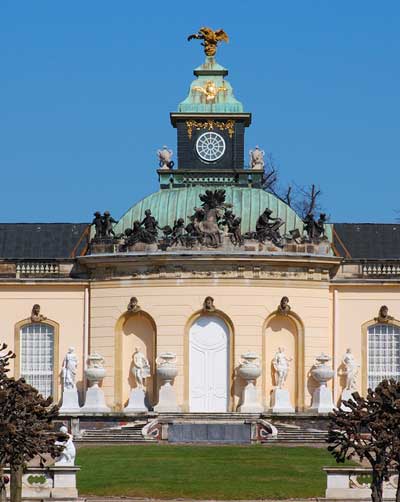 Enjoying sublime art – the Picture Gallery at Park Sanssouci
You'll soon grasp the enthusiasm that immediately seizes connoisseurs whenever they visit the Picture Gallery at Park Sanssouci in Potsdam. The name doesn't simply refer to a part of the famous Palace Sanssouci. The Prussian king Frederick II – known as the "Great" – wanted to house his beloved art collection in its very own building. Imperial Court architect Gottfried Büring of Potsdam fulfilled the king's wish in a section of the park that was previously home to a tropical greenhouse. Strolling from Park Sanssouci towards the Picture Gallery, past the marble sculptures by Heymüller, Benkert and others, visitors quickly appreciate the spirit that pervaded the times (1755-1764) during which this structure was built.
The interior harbours an invaluable collection of art works. The works of art kept in the Picture Gallery received a separate mention and have contributed considerably to the cultural rank assigned to Park Sanssouci by the UNESCO. Alongside paintings by Peter Paul Rubens, you'll find Caravaggio's "Doubting Thomas" and Anthony van Dyck's "Pentecost".
The stern forms used for the façade provide a stark contrast to the sumptuous décor of the spacious halls on the inside – rich, gold-plated ornamentation on ceilings and walls, yellow and white marble floors, interspersed with colorful inlays. Despite being the oldest extant royal museum in Germany, history is at its freshest and liveliest here at the Picture Gallery in Park Sanssouci.
Opening hours
May to October
Tuesday - Sunday: 10:00 - 18:00 clock
Saturday: Closed
November to April
Picture Gallery map
Events in Potsdam
ticket sales
Music Festival in Potsdam
The Music Festival in Potsdam will be held again in June. This year's theme "Music and gardens" ubiquitous. So even on the opening day in June. Interesting and unique you can take guided tours and visits to many different places. For those interested there is an Opera Workshop.
TICKETS
Details about the Music Festival in Potsdam can be found here.
The concert on the eve and Night of the Palaces in Potsdam
The Park of Sanssouci and Sanssouci Palace with its terraced vineyards and the New Palace are undisputedly the most important monuments in Potsdam, therefore provides the Night of the Palaces as an excellent temporal orientation, to learn more about the state capital of Brandenburg.
TICKETS
Details about the Night of the Palaces can be found here.