Charlottenhof palace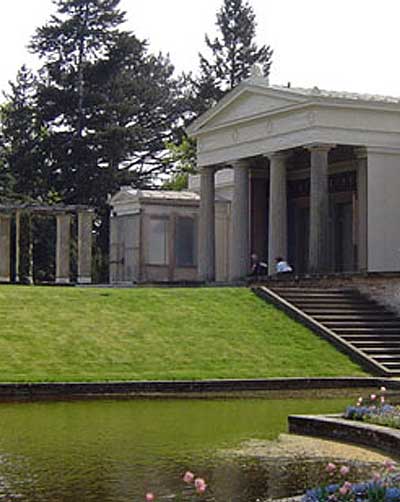 Charlottenhof Palace is located in the immediate vicinity of Park Sanssouci. The area has had various owners, among them Charlotte von Getzhow, after whom the palace is named. Frederick William III bought the area in order to present it to his son Frederick William and his wife Elisabeth Ludovika of Bavaria as a Christmas gift in 1825. They both used it as their summer residence in Potsdam. Frederick William commissioned Karl Friedrich Schinkel to design and build a palace based on the already present foundations of the Manor House. Frederick William was also actively involved in the design of Palace Charlottenhof. It was built in Roman style.
The highlight of the palace is the tentroom, fashioned after the example of the Roman Generals' tents. The blue and white window shutters allude to Elisabeth of Bayern's origins. Among former guests figure such renowned people as Alexander von Humboldt. All ten rooms are fully preserved in their original state. Upon its completion in 1829 Charlottenhof Palace and its gardens became an addition to the western part of Park Sanssouci, Potsdam.
The surrounding garden was created by Peter Joseph Lenné. Along with the palace, the garden provides a charming Italian flair at Park Sanssouci. Walking from the Garden House and through the vine garden, visitors arrive at the memorial tomb which Frederick had built as a sign of gratitude towards his parents. Park Sanssouci and its Palace Charlottenhof alone make a visit to Potsdam well worthwhile.
Opening hours
May to October
Tuesday - Sunday: 10:00 - 18:00 clock
Saturday: Closed
November to April
Charlottenhof palace Map
Events in Potsdam
ticket sales
Music Festival in Potsdam
The Music Festival in Potsdam will be held again in June. This year's theme "Music and gardens" ubiquitous. So even on the opening day in June. Interesting and unique you can take guided tours and visits to many different places. For those interested there is an Opera Workshop.
TICKETS
Details about the Music Festival in Potsdam can be found here.
The concert on the eve and Night of the Palaces in Potsdam
The Park of Sanssouci and Sanssouci Palace with its terraced vineyards and the New Palace are undisputedly the most important monuments in Potsdam, therefore provides the Night of the Palaces as an excellent temporal orientation, to learn more about the state capital of Brandenburg.
TICKETS
Details about the Night of the Palaces can be found here.