The New Palace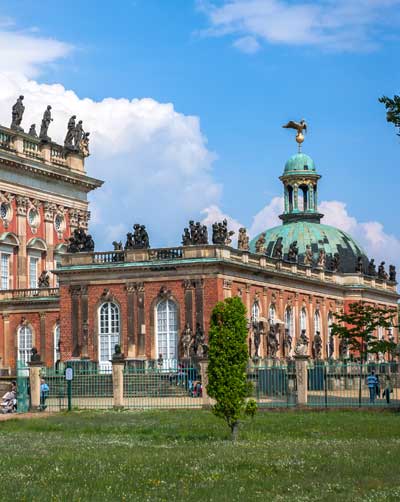 When the Seven Years' War ended with the signing of the Treaty of Hubertusburg in 1763, and Prussia had survived the latter without territorial losses, Frederick the Great resumed his construction activities. The New Palace was erected in the western part of Park Sanssouci between 1763 and 1769. Frederick's New Palace marks the symbolic end of an era, since after its completion no further baroque palaces were built in Prussia. The head architects were Johann Gottfried Büring (1763-1764), who had already built the Chinese House and the Gallery at Park Sanssouci, and Carl von Gontard (1764-1769). In the immediate vicinity are the Temple of Friendship and the Antique Temple. On account of his deeming it too ostentatious, Frederick only rarely used his New Palace as a personal residence, preferring to make it the guest house. Of Frederick's successors to the throne, only Emperor Frederick III and his son William II chose to use the New Palace in Potsdam as their personal residence. Once the royal residence during the German Empire (1871-1918), the New Palace is now used by the University of Potsdam to house its Philosophy Department and various other institutes.
As a first-time visitor, what can you expect to see at the palace in Park Sanssouci? For example, an 18th century theatre which is used to this day for stage productions. You can marvel at magnificent halls such as the Muschelsaal. The upper gallery displays paintings from the Italian Baroque while the marble gallery fascinates with its Jaspis and Carrara marble. These and many more attractions await you at the New Palace in Park Sanssouci, Potsdam.
Opening hours
April to October
Wednesday - Monday: 10:00 - 18:00 clock
Sunday: Closed
November to March
Wednesday - Monday: 10:00 - 17:00 clock
Sunday: Closed
Christmas Eve: Closed
Christmas Day: Closed
Second Day of Christmas: 10:00 - 17:00 clock
Silvester: 10:00 - 14:00 clock
New Year: 11:00 - 17:00 clock
Important notes
Last entering 30 minutes before closing time.
The New Palace Map
Events in Potsdam
ticket sales
Music Festival in Potsdam
The Music Festival in Potsdam will be held again in June. This year's theme "Music and gardens" ubiquitous. So even on the opening day in June. Interesting and unique you can take guided tours and visits to many different places. For those interested there is an Opera Workshop.
TICKETS
Details about the Music Festival in Potsdam can be found here.
The concert on the eve and Night of the Palaces in Potsdam
The Park of Sanssouci and Sanssouci Palace with its terraced vineyards and the New Palace are undisputedly the most important monuments in Potsdam, therefore provides the Night of the Palaces as an excellent temporal orientation, to learn more about the state capital of Brandenburg.
TICKETS
Details about the Night of the Palaces can be found here.