The Dragon House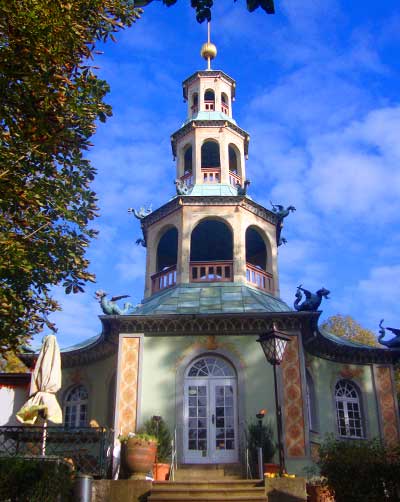 In accordance with the prevailing tastes of the times and the popularity of chinoiserie, the Dragon house in Potsdam was created between 1770 and 1772. Carl von Gontard was commissioned by Prussian king Frederick the Great to design a building reminiscent of a pagoda. The Potsdam Dragon House was erected in Klausberg which is adjacent to Park Sanssouci. The name Dragon House is derived from the sixteen elaborately designed dragons that adorn the roof tips of the building. Both the Dragon House and the Chinese House at Park Sanssouci are vibrant testimonies to widespread enthusiasm for Chinese styles and ways of life in the times of Frederick the Great.
Architecture, purpose and further history of the Dragon House
The Dragon House is inspired by the Ta-Ho pagoda in the Chinese province of Guangdong. Reports on Chamber's pagoda at Kew gave rise to Frederick's idea of building a similar structure. Chief architect Contard modified the original design so as to include larger rooms and windows by using concave walls. The foundation of the Dragon House is octagonal in shape. Upon this foundation a four-story pagoda was erected. Far from being a mere artistic piece of architecture or folly, the Dragon House was conceived since its inception to be a home to the local winegrower. However, this plan never fructified. Only after a complete restoration –already necessary by 1787- could the Dragon House actually be used as a permanent residence. Since 1934 the Dragon House at Park Sanssouci in Potsdam has been home to various facilities of haute cuisine.
Dragon House Map
Events in Potsdam
ticket sales
Music Festival in Potsdam
The Music Festival in Potsdam will be held again in June. This year's theme "Music and gardens" ubiquitous. So even on the opening day in June. Interesting and unique you can take guided tours and visits to many different places. For those interested there is an Opera Workshop.
TICKETS
Details about the Music Festival in Potsdam can be found here.
The concert on the eve and Night of the Palaces in Potsdam
The Park of Sanssouci and Sanssouci Palace with its terraced vineyards and the New Palace are undisputedly the most important monuments in Potsdam, therefore provides the Night of the Palaces as an excellent temporal orientation, to learn more about the state capital of Brandenburg.
TICKETS
Details about the Night of the Palaces can be found here.