Potsdam Park Sanssouci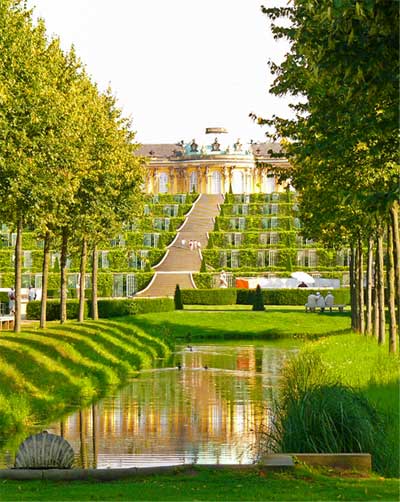 Potsdam is considered an attractive destination for tourists the world over. The historical legacy of the Prussian city of royal residence is reflected in UNESCO's decision to include Potsdam-Sanssouci and its unique array of gardens and palaces in the list of World Heritage Sites in 1990. The best-known landmark of the city is perhaps the famous palace of Sanssouci. The Hohenzollern palace was designed and built in the years 1745 to 1757 by Georg Wenzeslaus von Knobelsdorff, who in turn had been commissioned by none other than the Prussian king Frederick the Great. The Rococo palace is situated above the southern slope of Potsdam in the hills of Bornstedt.
The life history of the Prussian king Frederick II can be found under the heading "History": How he ruled his empire from Palace Sanssouci and how he came to present the town with this exceptional landmark. The pictures display both the park of Sanssouci as well as the palace itself. Opening hours for all the facilities at Park Sanssouci can be found under the "Opening times". Information concerning the facilities is listed in the upper information line. The Charlottenhof palace with its famous tent room (fashioned after the tents of Roman generals) is as worthy of a visit as is the Belvedere at Klausberg. Further highlights are the Chinese tea-house with its clover-shaped layout and the Orangery which is home to the Raffael Hall. Additional attractions are the Protestant Church of Peace and the Dragon House.
The map included in the menu provides an overview of all the buildings at Park Sanssouci. Any information on how to ensure a quick and easy journey from the city centre of Potsdam to the Palace Sanssouci can be found under "Park-Map".
Events in Potsdam
ticket sales
Music Festival in Potsdam
The Music Festival in Potsdam will be held again in June. This year's theme "Music and gardens" ubiquitous. So even on the opening day in June. Interesting and unique you can take guided tours and visits to many different places. For those interested there is an Opera Workshop.
TICKETS
Details about the Music Festival in Potsdam can be found here.
The concert on the eve and Night of the Palaces in Potsdam
The Park of Sanssouci and Sanssouci Palace with its terraced vineyards and the New Palace are undisputedly the most important monuments in Potsdam, therefore provides the Night of the Palaces as an excellent temporal orientation, to learn more about the state capital of Brandenburg.
TICKETS
Details about the Night of the Palaces can be found here.